Have you ever created the perfect blog post, polished and edited it to SEO perfection, watched eagerly as it was viewed and shared by hundreds or thousands of readers, only to witness in dismay as each day it reached fewer and fewer people? You are not alone. According to HubSpot, that is exactly the reception 90 percent of blog posts achieve. So, what about the other 10 percent?
What Are Compounding Blog Posts
The remaining ten percent are called compounding blog posts. These posts are tactically designed to generate a steady flow of traffic over time. You are probably thinking, "That is my goal with every blog post I publish." The overwhelming majority of published posts are "decaying." This means that the traffic generated from them continues to decline after an initial peak.
Why Compounding Posts Are Important to Your Blogging Strategy
In today's competitive business environment you need every advantage possible. You already utilize tools that increase productivity and improve efficiencies like marketing automation and CRM, but you are probably overlooking one of the most straightforward and effective methods.
It's true that compounding blog posts only make up 10 percent of what is being published. However, these posts generate 38 percent of overall traffic, and they cost no more to create. This makes them more impactful regarding ROI than the other systems combined.
What a Compounding Blog Post Looks Like
Compounding posts have several characteristics. First, they are informational and address a pain point felt by many. They are broad and tactical instead of narrowly focused and topical. The most successful compounding blog posts not only directly answer a question but they also provide a clear solution. They feature a headline that indicates the goal and content that delivers. This makes them the go-to source for search engines. Consider that one compounding post will create as much traffic over its lifetime (period of relevance) as six traditional or decaying posts.
Tips for Creating a Compounding Blog Post
There is no formula or template. So, we have come up with the following tips to help you design a post that is most likely to compound.
Tip #1 Create tactical content that aims to help a broad audience. Even if you run a niche business, seek to address holistic concerns instead of specific ones or specific concerns that affect others outside your market. The goal of inbound marketing, after all, is to bring people "in" to you.
Tip #2 Speak the language of the searcher. Once you have settled on a topic, consider the words your buyer persona, prospects, and other information seekers will use to search for this information.
Tip #3 HubSpot research has found that certain words are common in the titles of blog posts that successfully compounds. When creating a headline use these common terms: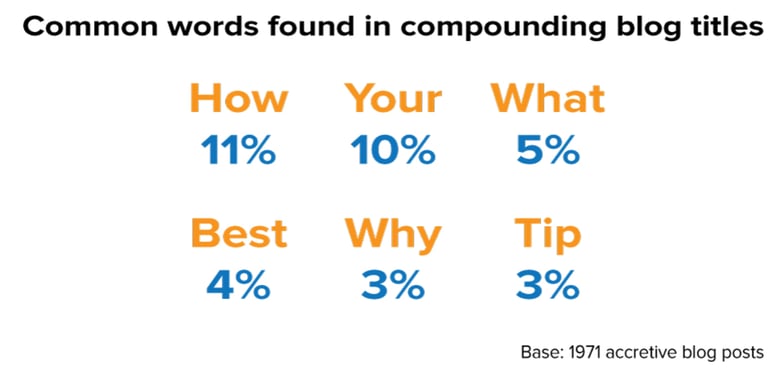 Tip #4 Consult with your sales team and customer service to find out the most common questions they are asked about your business, products, and services. Write content that addresses those issues.
Tip #5 Anticipate questions that your reader may have while reading the blog post; answer them within the content.
Tip #6 Take a look at old content or blog posts that have performed well for you and revise it with a compounding post strategy in mind. Regularly review your compounding content as well. Searchers will often look for the most current information published.
Tip #7 Create content that simplifies a complex topic. The "XYZ for Dummies" series of books are best sellers for a reason. Certainly, don't talk down to your readers but forgo the use of jargon and technical language when creating this type of content.
Finally, compounding blog posts should be lengthy enough to satisfy your reader's question without overwhelming them with extraneous information. Keep the blog post readable and exciting by using appropriate images, bullet points, high-quality links, short paragraphs, and bolded subheadings.
The concept of using content to build authority is not new. Unfortunately, most of the content produced and published today is failing to hit the mark. Compounding blog posts are one of the most simple, easy to use, and powerful strategies that require no extra costs to implement. By utilizing the principles and tips found here, you can avoid the pitfalls of decaying content and instead create blog posts that compound traffic over time, cementing your authority position and improving your ROI.